I'm excited to get to pick the brain of one half of Bourbon Pursuit's Duo (the other host is Ryan Cecil). The Bourbon Pursuit podcast is a fantastic resource if you want to learn more about Bourbon, important players in the industry, specific bottles worth hunting or about to release, and other Inside information.
They put out a ton of informative, educational, entertaining material. So sit back with a fine glass of the good stuff, enjoy the Q&A, and then go here to check out the podcast.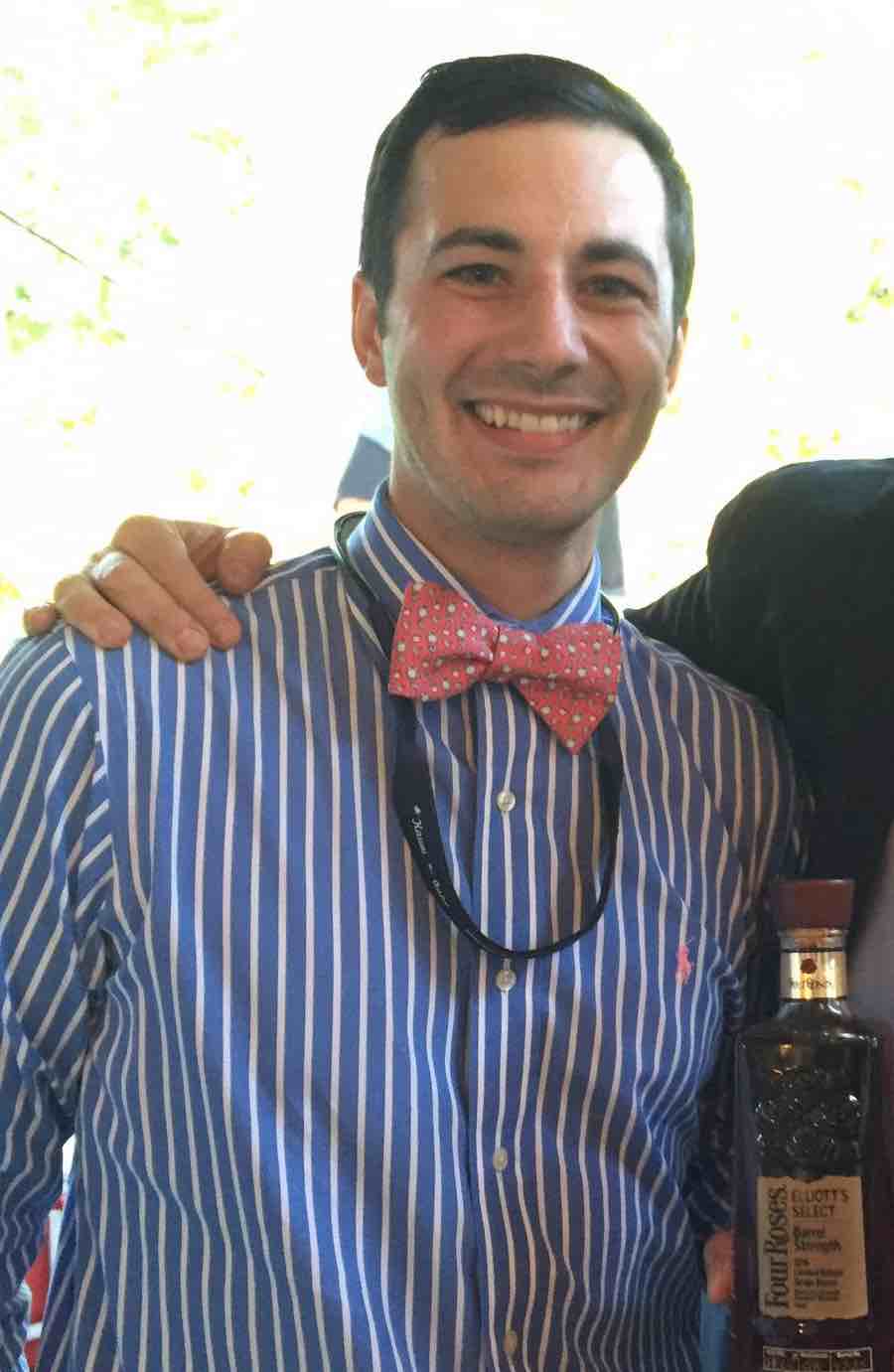 How did you get interested in Bourbon?
I got into bourbon back in the early days of college after being recruited to a fraternity known for being the biggest bourbon drinkers on the University of Kentucky's campus. Back then, it was handles of Kentucky Tavern and Very Old Barton on a weekly basis. For house parties, my claim to fame was coming up with large batch bourbon and coke mixtures in Gatorade bins. 2x 2 Liters of Coke to 1x 1.75 of Kentucky Tavern. Everyone was really getting into bourbon back then. After college, Old Forester became a staple in my post-grad home and I would splurge on 4 Roses Small Batch. It wasn't until 2011 when the itch hit to start buying more high-end and rare release bourbons. Since then, I've been known to camp out for and troll liquor stores on a weekly basis waiting for those rare ones to hit the shelf.
When did you first discover Pappy Van Winkle?
Like everyone else, it was a process of learning. Even though my first drink of bourbon was in 2002, it wasn't until 2011 when I decided to get into "limited editions". I had a friend gift me a 2010 Old Rip Van Winkle squat bottle. At that time, it wasn't life changing, it was just the beginning of exploring bourbons priced over $30. There were so many "limited editions" I was missing out on.
So tell us about your first hunt or the first time you found and tasted Pappy?
The first bottle wasn't a hunt, but when I decided I wanted to get another bottle, it was too late. It was 2013 and the market was exploding. I realized I needed to figure out how to get a new bottle. I walked into a few stores and got laughed at. They told me about their delivery days and said good luck. At the same time, I decided I could crowd source the effort. I created a Facebook Messenger group with a few friends that were also into bourbon and we decided to share intel with each other. Someone found out Pappy was going to be delivered the next day so we decided we would camp out. We grabbed a few chairs, put some sleeping bags in our cars, showed up to Liquor Barn around 5:00pm and we were first ones in line. We got those typical questions and comments: "What are you doing?", "Is it really that good?", "Nothing is worth that much time". As the night grew, so did the line. At 8am the next morning, the delivery truck showed up. The line continued to grow but we walked out with our Pappy 23 and even got back in line to get an Old Rip 10 year. We then jumped in our cars, went to 3 other stores and picked up more bottles. That was the first delivery day of the week so the remainder of the week was spent in lines and trying to be first to the punch. That first year I finished my hunting season with a bottle or two of each vintage except for the Rye.
So did you find it at retail or did you have to pay the "Pappy Mania" tax?
In the early years, finding it at retail or just slightly above was fairly easy. However, the last 2-3 years have been testing the boundaries and I end up paying the "Pappy Mania" tax to get a bottle, even at the liquor stores I paid retail the prior year before. I had some hindsight in the early years to bunker some of them away and not drink them like water. This has led to a decent amount racked up where I can forgo a year of hunting and not feel major regret.
Give us a quick overview of what your overall bourbon collection looks like?
Gosh, does "out of control" describe it? I've got somewhere north of 350 bottles and there is no end in sight. As bourbon continues to grow and more expressions are being released, I don't see myself stopping either. I had to buy new industrial Edsal shelving from Costco because the wire shelving I had in the overflow room began to start bending. And yes, I have an overflow room where the bottles don't fit on my bar or in my "epics" cabinet where it's full of Willett Family Estate, Buffalo Trace Antique Collection, and, of course, Pappy.
What are your favorites?
I've tried a bunch of Van Winkle vintages through multiple years and the 2013 and 2014 Pappy 20 have been my favorite. Something happened in 2016 and 2017 and the Pappy 20 year tastes musty and earthy. However, the Van Winkle Rye is fantastic it's harder to find a better Rye on the market.
What about your favorite "I-can-walk-into-any-liquor-store-and-get anytime" Bourbons?
It's probably been said a million times, but Henry McKenna Bottled-in-Bond is a tough one to beat for the price. I also enjoy WL Weller 107, Four Roses single barrel store picks, and Russell's Reserve private picks from Wild Turkey. I'm a sucker for single barrel picks from barrel selection groups and stores that are known for having great picks.
Do you hunt or collect any other rare Bourbons? If so, which ones?
You name it, I go for it. Antique Collection, Willett, Four Roses Limited Editions, Michter's, Parker's Heritage, Kentucky Owl, Old Forester Birthday, and more. There is very little I will actually pass on when it comes to allocated items.
Any that you want, but haven't been able to find yet?
When it comes to Van Winkle, I've never been able to try what made it famous. The bourbon in the green glass from Lawrenceburg distilled from Stitzel-Weller is really what put Van Winkle on the map. I've had my fair share of Stitzel-Weller bourbon and today's Van Winkle releases can't compare. I can only imagine how good those early releases could be. That also includes the one-off releases like Blue Smoke, Twisted Spoke, and the infamous Binny's 18yr barrel proof. I do have a few releases of Pappy 20 and 23 from the remaining Stitzel-Weller lot and one day I'll open those to see if the hype is real.
List the top 5 bourbons you've actually tasted in order of your preference.
1. George T Stagg Spring 2005 Lot B
2. Willett Family Estate 24 year #3707
3. 2013 Michter's 20
4. 20 Year Heaven Hill Select Stock Pre-Fire
5. Virgin Bourbon 15 Year (dusty export)
Thanks, Kenny!